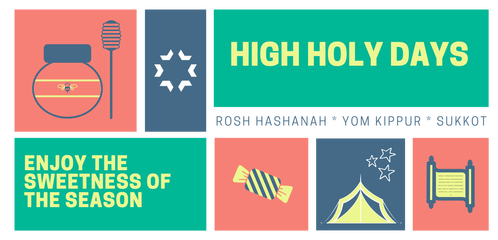 Erev Rosh Hashanah Service
Erev Rosh Hashanah kicks off the whole High Holy Day season. We gather to worship, hear from the Bible, sound the Shofar, and focus on the season of repentance. Then we celebrate following the gathering with the Apple After Party, a time of fellowship and enjoying all kinds of apple desserts and drinks to bring in a sweet new year!

Rosh Hashanah Service
Rosh Hashanah means "Head of Year" and it is a time to celebrate a new year on the Jewish Calendar. Biblically, we call this day Yom Teruah or "Day of Trumpets," and it is a day for sounding the Shofar. We treat this day like Shabbat and it is a day of rest and worship. So, we gather together to celebrate all that God has done in the last year and all He will do in the new year!
Erev Yom Kippur Service
Yom Kippur is the Day of Atonement, and one of the holiest days of the year for the Jewish people. It is a day of repentance in which we fast together, beginning at sundown this evening until sundown on Yom Kippur. While this is a somber time of fasting it is also one of great rejoicing as we thank God for the blessing of his Son to atone for our sins.

Yom Kippur Service
We take time on Yom Kippur to remember some important tragedies together, as well as taking time to remember those we have loved and lost, in a Yiskor service. Yiskor means to remember. Come join us as we repent, remember, and rejoice in the forgiveness of our sins in Yeshua the Messiah!
Erev Sukkot
Erev Sukkot begins the season of joy, as Sukkot is known, with a time of worship and dance outside next to our Sukkah. We will wave the Lulav and Etrog, sing songs, and enjoy some fall desserts with our Sukkah Brownie Bar and lots of fall drinks like apple cider and hot chocolate. Come celebrate with us!

Sukkot Picnic
Sukkot is the festival of booths, and we will celebrate by putting up a sukkah (temporary dwelling) and having a barbecue! Leviticus 23:33-43 instructs us to make temporary dwellings, take a day off, wave lulavs, and have a good time!
Come and join us down at the lake for a barbecue and a time of fellowship when we can get together and celebrate this last festival in the Holy Days season.

Eighth Night of Sukkot
Shemini Atzeret literally means "the eighth day." It is the closing service for the festival of Sukkot. In Leviticus 23:33-43 it instructs us to have a celebration on the last day of Sukkot.

Torah Rolling
We invite everyone to help us roll the Torah scroll from the end of Deuteronomy back to the beginning of Genesis, and we throw candy to celebrate the sweetness that is found in the Scriptures.